Discover The New Era of fast and reliable analysis of 2D Western Blots in Delta2D 4.8
(comments: 0)
Since many years 2D Western Blots are a common, accepted, and often used technique
for detecting, identifying, or quantifying proteins or process-related impurities e.g. host cell proteins (HCP),
to find highly specific antibodies for your spots of interest, as well as
for comparing technical or biological gels with Western Blots, even with different antibody signals.
But you always found it tedious and unreliable to align the 2D Western Blots to their gels to correctly match the western blot signals to their corresponding gel spots?
Let Delta2D 4.8 take your analysis on a new level!
A new approach, based on an idea of Dr. Klaus Kratochwill and his team from the Medical University of Vienna, makes alignment of 2D gels and 2D western blots reliable and fast: since the difficulty in aligning these two types of images lies in the divergence of their signal patterns, why not use their external shape as a guidance? This idea was so simple as brilliant, that DECODON decided to adopt and refine it. The result of these efforts is a new project type dedicated to 2D Western Blots. Considering the special roles of total protein gels, supporting images and 2D Western Blots, Delta2D thus makes it a breeze to import, align and analyze all necessary images for this approach near to automatically.
Simply follow Delta2D's established 5 step workflow: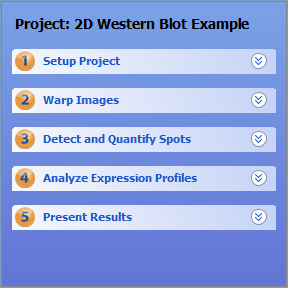 Setup Project

: Fast import, sorting, and despeckling of the images directly into groups

Warp Images

with a Customized warping strategy for high accuracy alignment

Detect

spots on an artifical image, which merges the information of gel and western blots,

Transfer

them to these two images and

Quantify

them there in a minimum of time.

Analyze Spot Profiles

by using various simple parameters or advanced statistics for defining your spots or signals of interest.

Present Results

in an excellent, easy-to-share webbased report showing coverage, reproducibility, and many more.
What else?
But that was not all. We also improved the workflow with
a simplified import of images directly into groups,
a unique visual indicator on images to immediately show sample-gel-channel-assignments in complex projects,
a streamlined interaction with the job manager to quickly get done most work in the background,
many more small bug fixes as well as improvements to make your analysis life free of struggles and hassle.
Last but not least, we introduced syslog based audit trails to help administrators a step further in regulated environments where e.g. CFR-compliance is relevant.
Update your version of Delta2D now: Save 16% discount when updating your version to the current Delta2D version 4.8 (released today). This offer is valid for all orders placed until Sep 30, 2018!
Try it out yourself
Download your free evaluation version of Delta2D 4.8 now.
Be one of the first to analyze your 2D western blots fast, reliable, and condense your results in a comprehensive web-based report.
Schedule your personal introduction with an email to sales-team@decodon.com