Benefits
Information management for MALDI MS data isn't a challenge anymore. Use MS Repo and get rid of data distributed across all the hard drives in your group, don't loose data if colleagues leave the group, and make your processes as efficient as possible when using modern IT infrastructure.
Capture data along the whole mass spec workflow
With MS Repo you can capture data along the whole mass spec workflow: location of samples on 2D gels, microtiter plates, digestion, peak lists, Mascot dat files, and GPS Explorer analyses.
Be more productive
Identification orders can be submitted and processed quickly and reliably. Results can be made available online immediately after generation.
Simplify your hit list management & find identifications that meet MCP guidelines easlily
Protein hits are presented including Mascot scores, sequence coverage, number of peptides, position on 2D gel, isoelectric point, molecular weight, etc. Hits can be filtered based on a variety of criteria. Protein identifications that meet MCP guidelines are labeled with the "mcp_guidelines" label.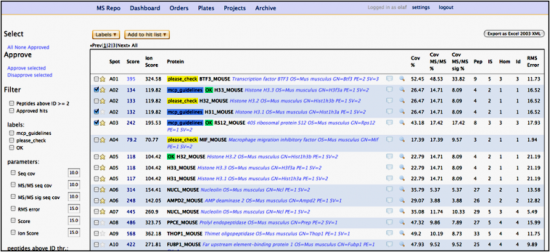 Keep track of multiple long term projects and collaborations
Data is cross-referenced and can be traced back from identified protein to peak list, Mascot result, microtiter plate well, and original spot location on a 2D gel.
Stay flexible
All you need is a web browser to manage data from any number of Mascot servers, digesters, and GPS Explorer servers.
See isoforms at a glance
Protein isoforms can be analyzed using an interactive graphical display of peaks and peptides.
Share data the smart way
MS Repo is completely web-based with fine-grained access rights control so results can be shared safely and easily with external collaborators or published on the web.
Enjoy various exporting features
Hit lists can be made available over the web or exported to MS Excel. All data may be exported to a zip archive which includes peak lists and Mascot dat files.
Protein identifications as well as annotations such as pI and MW may also be exported to Delta2D, our software for the analysis of two-dimensional gels.